ARE YOU LOOKING FOR A CREATIVE & FUN WAY TO ENGAGE YOUR KIDS THIS EASTER?
WE'VE GOT YOU COVERED!
Each Easter, The Church At Lake Forest hosts the largest Easter Egg hunt on the west side of DeSoto County. This year, we prepared 5,000 Easter eggs plus prizes. BUUUUUUUUUT...when our governor issued his first shelter-in-place order, we knew we needed to pivot.
So for the last 3 weeks, we've been working toward our very first virtual Easter Egg Hunt!! And it's finally here! We will be hosting our very own Minecraft Easter Egg Hunt, complete with prizes! We have decided to partner with the National Esports Association so that 1) our server will be robust enough to handle the traffic, 2) kids can play from any platform, and 3) we can have a high standard of protections in place to keep our kids as safe as possible during the online event. We want to thank the National Esports Association for helping us make this a great event!
JOIN US FOR AN EPIC VIRTUAL EASTER EGG HUNT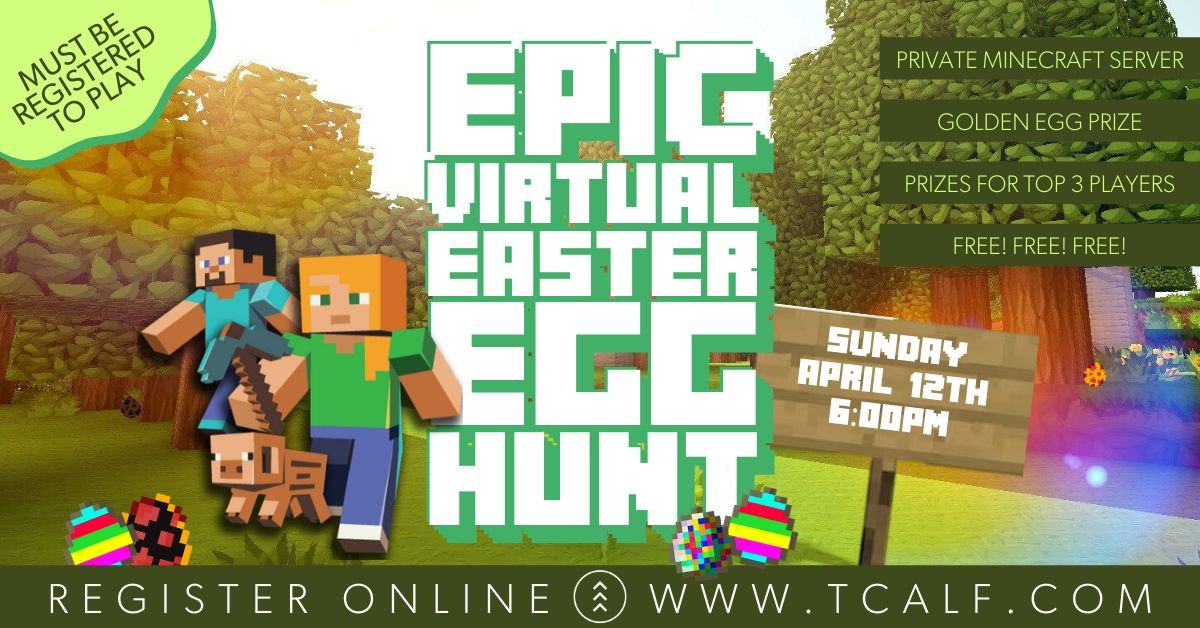 in association with the national esports association
The Church At Lake Forest has been hard at work building an online Minecraft Easter Egg Hunt! Join us LIVE online for our EPIC VIRTUAL EASTER EGG HUNT on Easter Sunday, April 12th at 6:00PM Central Time when we launch this epic egg-venture!! It's sure to be an egg-straordinary event that you and your kids won't want to miss!
Registered participants will race to find eggs in our virtual community. Our EPIC VIRTUAL EASTER EGG HUNT will feature LIVE gameplay, online challenges, and special prizes throughout the event! The top three egg finders will each receive prizes for 1st, 2nd, and 3rd, and the one lucky child who finds the golden prize egg will receive an extra special prize. SSshhhh...we're keeping the prizes under wraps for now....
PLUS - Parents can watch their child(ren) on their egg hunt journey and keep the family traditions alive, even while at home!
Please share this event with everyone you know! It's FREE! There are prizes! And this year, we're within driving distance of...well...uh...THE WHOLE WORLD!
Please use the form below to register: